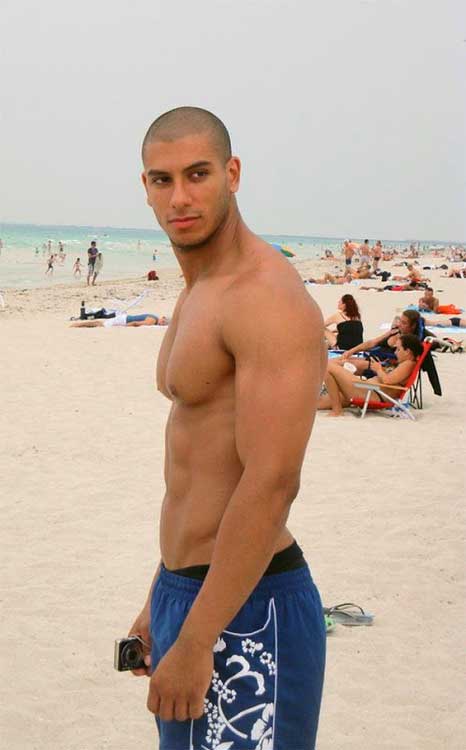 My name is Ahmed. I am 24 years old with an athletic body. I love hot muslim guys around my age. Lebanese or any type of arabs make me insanely fucking horny. I work out a lot in my free time and I have a 8.5 inch cut cock. I started going to the gym near my school to work on my upper body. Then I noticed this really buff guy by the name of Rabih but he prefers "Ray." He looked so fucken ripped, I knew that I wanted his cock inside of me. He was apparently in a boxing team and was teaching an intro course for those who wanted to know how to box.
I applied to his seminars and I made sure I spend my time with him to lead him on. I was getting buffer the time I was with him. I managed to get some private coaching from him at his place. One day I went to his place and we worked out in his weight room. When we ran out of things to use to work out, he said he knew another work out method that requires two people. He got on pushup position and told me to get on top of him and wrap my arms around his chest.
When he said that, I started to get a little hard. I did what he said and I think he felt my boner pressing against his ass as he went up and down. Then he told me that he would do the same to me. As I was going up and down, I could feel his cock pressing on my ass and I loved it. After we finished our work out, we took off our shirts to cool off and just sat talking. He told me that he wanted to go out tonight to get some pussy at some party. I laughed and said that "Your dick aint big enough to tap pussy." He got up and pulled down his shorts and showed me his huge 9 inch cock.
I said "Damn dude. Doesn't look that hard like your chest." He said, "Show me yours then and let's see how hard you get." I pulled down my shorts and had my cock hard as a rock and started stroking it. He said, "Damn bro, you sure get hard easily" and then placed his hand on my cock and started stroking it. I said "Only when you're around." I took some pre-cum from my fingers and put it in his mouth. He licked that shit dry. I brought him closer to me and started making out. I was kissing his neck and he told me "I've wanted to fuck you for a while now." I told him "Me too. What kept you waiting?"
We had our arms wrapped around each other. He pushed me up against the wall, lifted one of my legs with one hand and fingering my asshole with the other. He told me he wants me to take me to his room to fuck, but I said that we should fuck where we were because the weights and the mirrors turned me on. I laid him down on the floor and started kissing his hard chest and made my way down to his cock. I got to his dick and started deep throating that 9 incher down. My eyes watered as he kept pushing my head down further to ball level, and I didn't care. His cock is all I wanted. He started to moan and telling me he loves it. Then he said, "Hey bring that pretty dick of yours over here and let me suck it."
We spent a while 69 each other. He even licking and fingering my asshole. I got up and said that I wanted him to fuck me. I reached to my duffle bag and pulled out some condoms and lube. He was surprised to see me prepared, and I told him that I knew that we'd end up fucking sooner or later. I put one on his cock and lubed it up. I got on top of him (cowboy position). His dick fucking hurt like a bitch. I started going up and down on his cock and I moaned with pleasure.
I kept telling him that I loved his cock in me so much. He pushed me off, bent me over, and started eating my asshole. His tongue licking my hole felt very nice and hot. But not as hot as when he started fucking me doggy style. He shoved that cock so deep in me and fucked me crazy rough. He spanked my ass and even pulled my hair. When I started to get a little too loud, he pulled me in for a kiss so I could shut up. He stopped and was ready to fuck me missionary. He leaned over to grab another condom because it was full of his juicy cum. But I said no, and I went down to suck that cum off his dick and to lube it up. I told him to fuck me bareback.
Click here to see the full video and more hot gay arab guys fucking each other
He lifted my legs up and began to shoving his dick in my ass. That dick felt so great in my ass now that it didn't have a piece of rubber between it. He fucked me so hard and we made so much grunting noises it sounded like we were doing a hard workout. He came inside my asshole and it felt awesome. He pulled it out and we started stroking together. I came on my chest and some squirted to my face. Rabih came closer and came in my mouth. Now I was just lying on the floor with his cum in my mouth and asshole and my cum on my chest. Rabih said to me, "Where have you been all my life?"
We then showered afterwards and made out some more in his bed. This was probably some of the best gay arab sex i have had in ages. It was the stuff porn dreams are made out of.