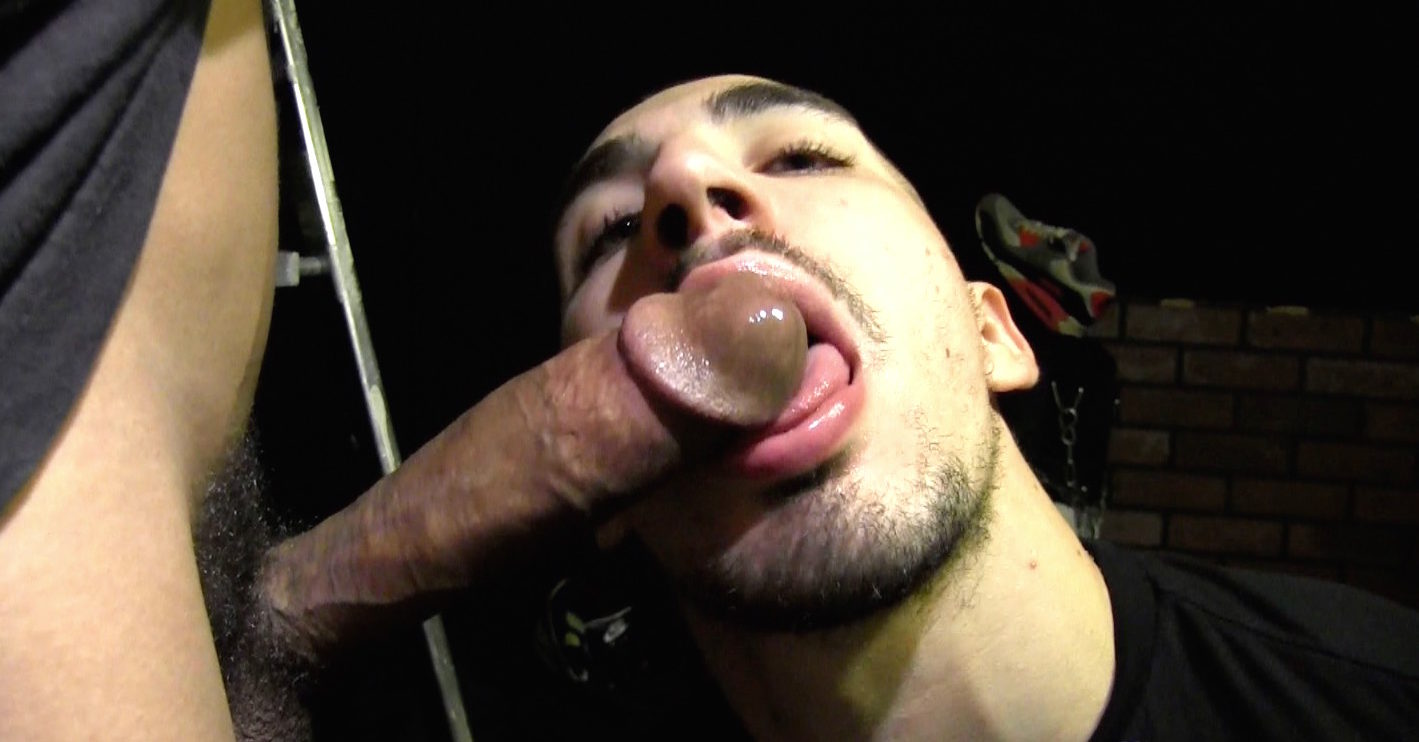 Last month I went to pick up my friend Ahmed from his house. A Lebanese guy. 20 years old, but when I went to his house, he was gone. He is a flake, not reliable.
His brother Saleem, 18 years old, told me Ahmed left with his girlfriend. Maybe he forgot I was gonna pick him up to go drink at my house. Ahmed is straight and has a girlfriend but I suck him off when he gets really drunk. And then the next day we act like nothing happened.
Anyway, so I go pick up Ahmed and the idiot took off with his girlfriend without letting me know.
So Saleem says Sorry, and I say that's ok we were just gonna drink.
Then Saleem says he is down to drink, so I think hell yeah, since he is a cutie too. Let me describe Saleem: he is 5'10" about an inch taller than his older brother, light skin, real cute, nice lips, dark eyebrows and real masculine.
So we go to my house and we start drinking, and he asks me if I have weed cause he wants to smoke, and I have a little, not a lot, but enough to get him high. Then we start drinking Patron and and before long we're pretty drunk.
I tell him I'm too drunk to drive and he says that's cool that he can sleep over if he doesn't mind or he can take uber, and I tell him to sleep over and I will take him home in the morning and he says cool.
So we get ready for bed and I give him a toothbrush and damn when he brushes his teeth in my bathroom he is in his boxers only and even though he is soft I can tell he is packing because his dick head hits the front of his boxers.
I ask him if he wants to sleep on my bed or on the sofa, and he says whatever.
So I tell him he can sleep on my bed and I will sleep on the floor in my bedroom, and again he says whatever.
So he gets in my bed, and I get blankets and lie on my floor, but I'm horny and I want to make him horny, so I watch straight pornos on my phone (even though I am a big faggot-ha ha) and I put the volume a little high so Saleem can hear it.
Saleem asks me if I'm watching porn and I say yeah and I start laughing. Then he shocks the shit of me asking, "Hey David, you're gay, huh?"
I am shocked and I don't know what to do or say. So I stay quiet, wondering if I heard him right.
Then he says, "Come here and suck this dick." I pick up my head and I see his big dick is sticking out of the hole of his boxers. Is he joking with me? The whole thing was shocking.
He wagged his dick at me, and said, "I saw you sucking my brother's dick the last time you slept over. Come suck this dick."
I stood up. I kinda laughed and denied that I sucked his brother because his brother Ahmed would kick my ass if I admitted I sucked his dick.
So I said, "I've never sucked your brothers dick."
"I saw you sucking him off while he was laying asleep on the sofa. Don't worry. I'm not gonna say nothing."
By this time, I was all horny for Saleem's cock, so I went over to the bed. I never admitted I did anything with Ahmed, I know better than to double cross him.
But his brother Saleem was so fine. So I bent down and started sucking him. Ay, his dick tasted so good. It was fatter than Ahmed's cock, so much fatter and better. I always wondered why brothers I suck never have the same cock.
Anyway, so I'm sucking Ahmed's fine ass brother, moaning like a bitch around his cock, and then he says, "Let me fuck you."
He doesn't let me answer. He just picks me up and throws me on the bed. Yanks down my boxers, and puts me in the doggy style position. There is no better feeling than having a fat arab cock drilling your ass. I want to watch the video over and over again. Gay arab porn is fucking hot.
"I'm gonna make you my bitch," he says, and I'm super horny but at the same time I'm scared his fat cock is gonna hurt me.
He doesn't ask for a condom. He just spits on his hand and wipes his dick head with it. He is not gentle, he is in a hurry. And before I know it, my asshole burns with his fat dick. I try to get away but he pushes me down and puts all his weight on top of me, pinning me to the bed.
Then he tells me, "Kiss me faggot," and I move my face sideways so we can kiss while he fucks me so good, nice and slow (he stopped fucking me hard).
He asked me, "Do you like how I'm fucking you?"
"Yes," I moan, "fuck me nice and slow."
And I shouldn't have said that, cause when I say nice and slow, he starts fucking me real hard and fast, and we are bouncing up and down together on the bed.
But after a while it stops hurting and it feels so good. It's a good feeling, but a frustrating annoying feeling because it feels so good that I want to cum but I can't jack off because he has me pushed against the bed. My cock is crushed underneath me as he fucks me.
All I can do is push my ass up to me.
"I'm gonna cum," he moans.
And then he fucks me so hard so deep that I feel it in my guts.
Saleem fucks super good, but ayyy, he is so rude and pushy. He treats me like a bitch. I kinda liked it lol.