Please make this story anonymous.
I know it's a little long, but I will try to describe it as it happened.
It all started on at my dad's house. As usual, my dad was having a cook out. His friends from work were there. There was his friend Abdul, just looking at me and just giving me these flirty winks and licking of his lip as if he was about to eat something yummy.
He is an older man around 35 or so. My dad employed him a few years ago. He came from Iraq and didn't really know much english. He's about 5'9", light skinned Iraqi with hazel eyes and juicy lips. He had a lil 6 pack going on cus he worked in construction. I'm also Iraqi, 5'6", dark skinned 170 lbs, with brown eyes and black hair. At that time I was 18.
So everyone was drunk and started leaving. Abdul said to my dad, hey dude, I'm already really drunk. You think your son can drop me off at my house?
Dad said, yes he can but if you want you can spend the night. His room has 2 beds!
He said he would stay.
Well, again dad went off to bed, and I told Abdul to go to bed. I was gonna bring in all the stuff my dad left outside. He said, Hurry up son, I want to eat your little ass)
That turned me on, so I hurried and went to the bedroom. I knew dad was knocked out already cus he was snoring.
I walked into my room, and Abdul was ready. He was naked in bed waiting for me. That man's dick was perfect in every way. Big fat juicy arab cock and hairy with nice low hanging balls.
So I went to him and he tore my clothes off. He kissed me so passionate that i just wanted it more. He sucked my nipples and played with them. He was sitting on the bed with his back against the wall. He made me stand up in front of him to suck my dick. He was sucking on it like really good. As he was sucking on my dick, he got a hold of my butt cheeks. His rough hands were grabbing my smooth butt cheeks, and he would spank them. I would moan with such pleasure. Fucking around with arab guys seriously drives me insanely wild. I wished I filmed this stuff. It's like the perfect gay arab porn sex movie ever. lol
He turned me around and bent me over to get my ass right in front of his face. He ate my ass and tongue fucked me. It was one of the best pleasures he has given me. I was moaning beyond control but i had to keep the sound down.
All of a sudden we switched positions. He sat me down where he was sitting on the bed. He stood up in front of me. His beautiful manhood was right in front of me waiting to be sucked. I was almost hypnotized by such beauty. He said,"Suck it habib. Suck my cock. You will love my arab cock..
I obeyed his every command. His big head was so swollen. I sucked on it as if there was no tomorrow. He moaned with pleasure which got me hornier hearing him and i did it more. He asked me to suck his balls which i did at his command. His balls were hanging low and huge. They were beautiful and dark and juice.
He commanded for me to tilt my head back and open my mouth. I did and he walked forward, dipping his huge balls in my mouth. I loved it. He said to me, yeh thats right suck them. You suck them so good.
He face fucked me, making me gag as he would thrust his cut arab dick in my hungry mouth. Then he asked if i was ready and i didn't reply, I just got on all 4s. I was totally surprised cus he said it was his turn getting fucked in the ass. He said, "I want you to fuck me hard. I want you to drill me harder than ever before.)
I was nervous. I could see his asshole pucker up just begging to be fucked, so I went ahead and rammed it in almost violently to which he let out a loud moan with pain and pleasure. I apologized to him but he said, "Shut the fuck up and fuck me really good like i fucked you last time.)
I did as he commanded. I showed no mercy to him as i fucked him hard and deep. I could feel him squeezing my dick with his asshole. I understood why he moaned. It felt great to have his asshole squeeze my dick. We changed position numerous times. He wanted his legs on my shoulders. He pulled me towards him so he could kiss me while i fucked him. He would whisper in my ear, "fuck me harder… come on fuck me harder".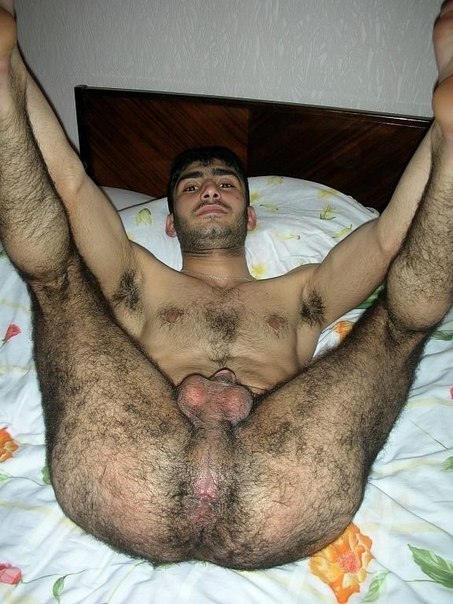 He would squeeze my dick from time to time, making me moan. I was tensing up and he felt it too. He said, "Fuck me hard and cum inside me".
I shot load after load of hot thick cum inside this man. I could feel him grip my dick with his asshole and milked the rest of the cum out.
He asked me to suck his dick so he could cum. And I did. I sucked him for about 3 minutes and he exploded inside my mouth. It was my first time tasting cum. I swallowed, and I had a bit left on the side of my lip. He licked it with his tongue and made me suck it with my mouth. I sucked on his tongue.
He said he wants to keep doing it all the time, and I told him ok. He left a couple of hickies on my chest and on my butt cheeks because he said they were his territory. We went to bed and slept.
In the morning, I heard my dad leaving so I got up and went and asked him (around 7 am)where was he going and he said to do something really quick he would be back around 10 or 11 am. He said go back to bed, so i did but to Abdul's bed.
Abdul had a morning wood so I released his monster from his underwear. Good morning to me, I thought!!! I woke him up with a nice blow job. I was in charge now and i fucked him again. He didn't complain, but obeyed my every command. I fucked him raw until he finally told me to stop cus he was sore already.
So I grabbed him from his hair and stuck my dick in his mouth until I came inside his mouth. I made him swallow every drop of cum. We showered and waited on my dad to get back so we could drop him off.